How to use LoRa technology to track cattle in real time , and realize intelligent animal husbandry
How to use LoRa technology to track cattle in real time , and realize intelligent animal husbandry
How to use LoRa technology to track cattle in real time , and realize intelligent animal husbandry
The trend in smart agriculture is transforming intelligently, and HKT's LoRa technology will revolutionize smart agriculture. It can track livestock and maximize crop yields.
Over the past century, we have witnessed extraordinary changes in the structure of the agricultural industry. Most of the micro-farms owned by the family have been replaced by large-scale large-scale farm operations, and the demand for food has steadily increased. According to the UN Food and Agriculture OrganizaTIon forecast, by 2050, the world needs to produce 70% more food than in 2006 to support the world's growing population. As production and operational demand continues to grow, agribusinesses are turning to the Internet of Things to achieve analytical technology and greater production capacity. Farmers and ranchers can no longer rely on visual cues or other passive and history-based indicators to manage their businesses. They must create more efficient operational solutions to regularly gather information, quickly synthesize data, and make informed business choices in the field to benefit from precision agriculture and real-time monitoring of the livestock industry.
The Internet of Things is bound to push the future of agribusiness to a new level. In some countries, smart agriculture is becoming more and more popular, but in order to accelerate the global deployment of IoT technology, farmers and ranchers need low-cost, low-power sensors. HKT's LoRa® devices and wireless RF technology (LoRa technology) and LoRaWANTM open protocol are ideal for sensors; these sensors only need to update information several times per hour, as the environment does not change dramatically. In addition, because many farms and ranches are in rural areas and do not have access to cellular networks or licensed bands, they need an easy way to install network infrastructure for their IoT applications.
By using LoRa technology and the LoRaWAN open protocol, agribusiness can digitally monitor, manage and analyze all aspects of its business to improve its overall operations and return on investment (ROI). From tracking the health of livestock to monitoring pregnant cows to increasing crop yields, LoRa technology provides a solid platform for the future of smart agriculture because it is easy to deploy and helps farmers and ranchers Develop its business.
What if only half of the fields need more fertilizer and do not get enough water? If one of the 100 cows is sick, you need to know which cow should be isolated to stop the spread of the disease. What should I do? What if you need to monitor a cow that is ovulating to ensure that the mother is healthy throughout the breeding process?
The competitive state of the agricultural business has driven farmers to find a technological advantage. Whether using GPS-driven autopilot tractors or dual-season soybeans to increase production, farmers are always paying close attention to a new generation of innovative agricultural technologies. The future of agriculture is one of real-time data monitoring, in-situ sensing equipment and long-term data analysis.
LoRa-enabled devices can handle many of the things that happen in smart agriculture, from tracking cattle roaming in huge pastures to monitoring soil moisture. Compared to other agricultural IoT devices, LoRa-based technology provides longer battery life and longer distance data transmission at an affordable price point.
LoRa technology simplifies and improves the day-to-day operations of every smart agricultural application. This technology has become extremely valuable for agribusinesses as they are able to adapt to the changing needs of the agricultural industry.
Monitoring a group of cattle is an all-weather job because livestock farms can lose billions of dollars each year due to diseased cattle. So while ranchers continue to focus on their financial growth, they need a technology to enhance and simplify their operations.
QuanTIfied Ag, based in Lincoln, Nebraska, has developed a cattle electronic tag that integrates LoRa technology to measure bovine body temperature, head movement and overall movement. All data is collected into an application server to look for "outliers". For example, a cow's data shows that its movement is reduced and body temperature is reduced, and the data becomes an indication of the disease. HKT solution provides a mobile app that notifies farmers about potential health issues. So they can check the cow and then have a remote video conference with the veterinarian who can check the animal's vital signs and collect biometric data. This allows farmers to quickly pay attention to their animals in a timely manner to try to stop the spread of disease throughout the herd.
There are now many LoRa-based IoT devices designed specifically for livestock management applications that are coming to market. Another device currently being tested and designed can be fed to cows and used for animal monitoring. This LoRa-based sensor monitors body temperature and sends the cow's ovulation signal to an artificial insemination veterinarian. This approach saves working time and reduces guesswork by letting the farmer know exactly what is happening in each potential cow mother's body.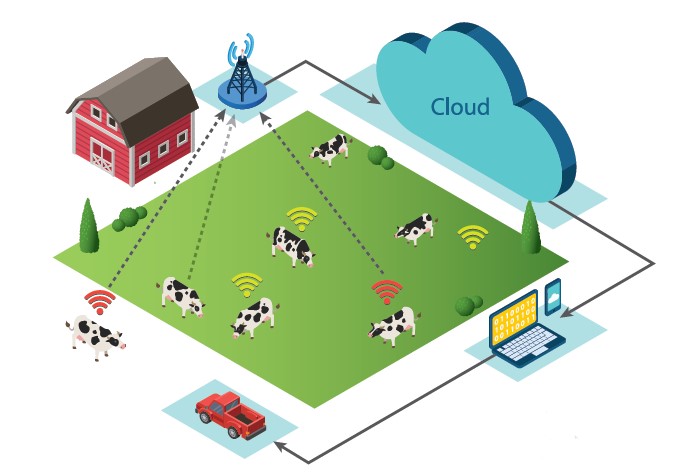 Get the latest price? We'll respond as soon as possible(within 12 hours)