How does LoRa started earlier than NB-IoT to seize China's tens of billions of IoT market?
How does LoRa started earlier than NB-IoT to seize China's tens of billions of IoT market?
How does LoRa started earlier than NB-IoT to seize China's tens of billions of IoT market?
As the most promising low-power WAN communication technology in China, NB-IoT and LoRa have been bundled and compared, and in view of the Lora products far superior to the company's own reputation,HKT Technology are often in the middle of it.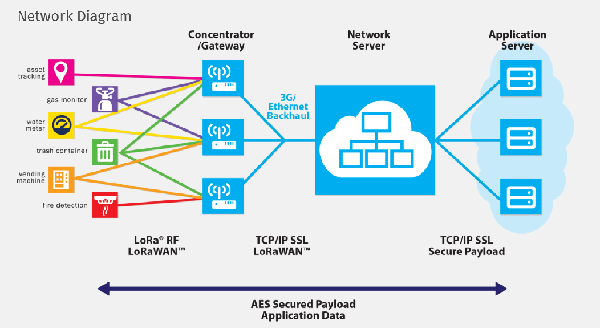 LoRa network composition
Simply saying that the disadvantage of NB-IoT is meaningless, LoRa will be deployed complementarily with NB-IoT in the future. One of the features of LoRa is the low transmission power for a wider transmission range and distance. HKT once put a gateway on the US Cisco building, and the LoRa signal can be as far as 32 kilometers away when the outdoor is unobstructed.
Why can I do such a long distance communication? LoRa is based on linear spread spectrum modulation technology. The receiver sensitivity is 36dB better than FSK, which means that LoRa signal can be 20dB lower than the bottom noise; and LoRa has high spectral modulation efficiency, which means less capacity loss is better. Link budget. LoRa works at frequencies below 1 GHz with the same sensitivity, 470MHz has a better penetration rate of nearly 10db than 900MHz.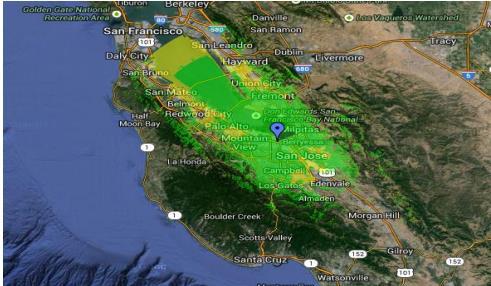 The measured transmission distance of LoRa in the United States can be up to 32 kilometers away.
LoRa second generation chip will open positioning function

This feature extends LoRa's application scenario to smart agriculture. Currently, a farming irrigation project in Chongqing uses LoRa technology. Because the sensor is buried deep enough, it can avoid the "missing" of the turning machine. LoRa with low bandwidth, low power consumption, long distance, low cost and other aura characteristics has already been commercialized abroad.

In March 2015, the LoRa Alliance was announced. Currently, the Alliance has more than 500 members, and the CLAA Alliance in China has attracted 700 companies to join and 100 applications.
Currently, LoRa networks have been piloted or deployed in many parts of the world.

According to data released earlier by the LoRa Alliance, 46 operators are deploying networks and deploying and deploying LoRa networks in more than 350 cities. Among them, US network operator Senet completed the construction of 50 base stations in North America in 2015, covering 15,000 square miles (about 38,850 square kilometers), and is expected to complete more than 200 base station erections in the first phase; France Telecom Orange announced in 2016 Established in France at the beginning of the year; Royal Dutch Telecom KPN announced that it will build a network in New Zealand, reaching 50% coverage by 2016; India Tata announced that it will build a network in Mumbai and Delhi; Telstra announced that it will pilot in Melbourne...
Whether it is NB-IoT, which is blessed by domestic operators, or LoRa, which has been used in foreign countries as early as possible, both are trying to shake the Chinese market.

However, the issue of the security of the Internet of Things that has erupted successively this year has also attracted the attention of the Central Network Information Office.

The 2017 Network Security Week Summit was held in Shanghai in mid-September. Yang Xiaowei, deputy director of the Central Network Office, called for increased security research on the Internet of Things, artificial intelligence, and 5G.
In terms of data security, LoRa has a relatively mature industrial chain in China. With the improvement of the entire LoRa ecosystem, there will be a lot of support from various nodes, gateways, servers, etc. An ordinary school, hospital or even factory can use the LoRa gateway and terminal nodes to build a private network. The data can be privately owned. Compared with other technologies, LoRa security can be guaranteed.
Based on the security mechanism of LoRa, domestic enterprises evenly control the network equipment through the Internet of Things logo, so as to ensure the security of all networked devices from the source, thus avoiding illegal equipment access. Guangdong Zhongke Lupu Network Technology Co., Ltd., located in Nansha, Guangzhou, has been actively promoting the deployment of low-power IoT networks since this year.

The high-tech enterprise incubating from the Computer Network Information Center of the Chinese Academy of Sciences in Guangzhou, combined with the center's own IoT identification technology, launched a secure low-power communication network system LoPo-IoT based on the LoRaWAN standard. It is understood that the company has quickly realized the network deployment of 803 square kilometers in Nansha District of Guangzhou, and successfully built the first low-power IoT application network covered by the whole administrative region.

Huang Kaide, general manager of the company, said that the specific application of the network in Guangzhou Nansha includes smart parking, garbage bin monitoring, tube well monitoring, environmental monitoring, asset management, and prevention of old and young. At present, the company team has deployed dozens of parking spaces in some scenic spots in Nansha, and it is expected to be put into use during the National Day holiday.

In addition, he also said that thanks to the coordinates of Nansha, the open LoPo-IoT application management platform can rely on the network of Nansha District to integrate existing urban information systems, such as video and e-government, to form information of the urban Internet of Things. The management platform will further transform Nansha District into a successful model for smart cities in the Internet of Things.
Different from NB-IoT operators and local government endorsements, they are now feeling the pressure from inside and outside when they promote the LoPo-IoT low-power IoT communication network based on LoRa protocol. First, customers believe that technology has potential, but when it comes to specific deployments, there are still more concerns. Second, I hope that LoRa technology will break through in China as soon as possible, enhance public awareness of new technologies and increase confidence in applications, thus improving market space.

"It's best to have a phenomenon-level IoT application like a shared bike, and the next one we predict is a smart parking application."

Get the latest price? We'll respond as soon as possible(within 12 hours)